Happy Thanksgiving from ours to yours!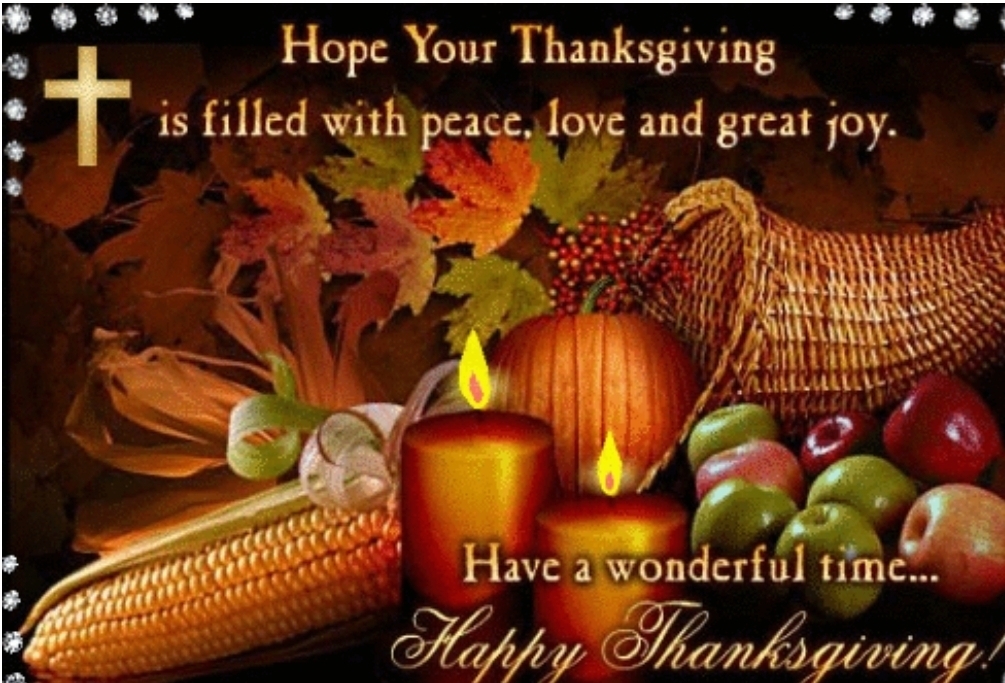 Good morning! There will be no school tomorrow or Friday! Tomorrow we honor all U.S. Veterans! Thank you, for your service! ¡Buenos dias! ¡No habrá clases ni mañana ni el viernes! ¡Mañana honramos a todos los veteranos! ¡Gracias por tu servicio!

Good afternoon! Red Apple Fundraiser money DUE tomorrow! Pie/Cookie Dough deliveries will be the week of Dec 6. ¡Buenas tardes! ¡El dinero de la recaudación de fondos de Red Apple VENDE mañana! Las entregas de Pie / Cookie Dough serán la semana del 6 de diciembre.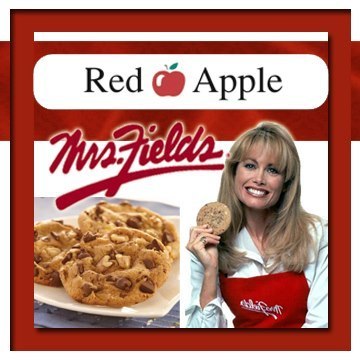 November Lunch Menu going home TODAY!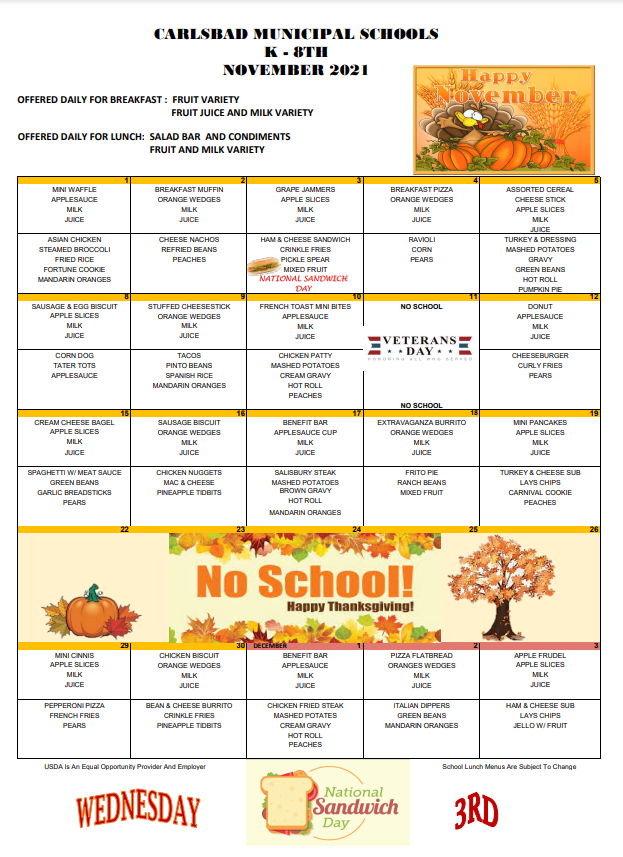 November Newsletter going home TODAY!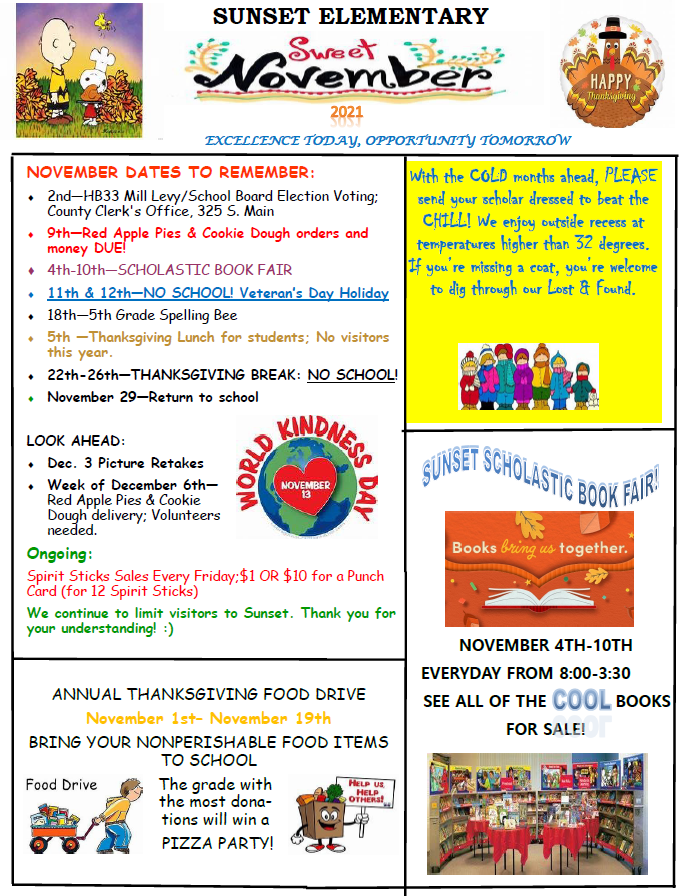 Pumpkin Decorating Contest this week at Sunset! Two categories! Student Created & Family Created. Info sent home Friday! 🎃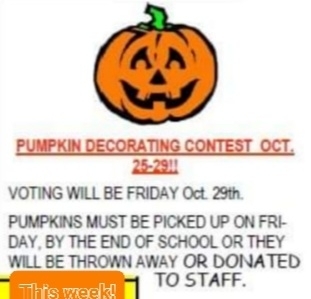 Lifetouch Pictures at Sunset! Day: Thursday, October 28, 2021 To order online: mylifetouch.com Class Picture ID: EVTD2HQVQ Individual Student ID: EVT4VSM93 (Order Forms have also been sent home) Lifetouch Pictures en Sunset! Día: jueves 28 de octubre de 2021 Para realizar pedidos en línea: mylifetouch.com ID de imagen de clase: EVTD2HQVQ Identificación individual de estudiante: EVT4VSM93 (Los formularios de pedido también se han enviado a casa)

Awards Assembly TOMORROW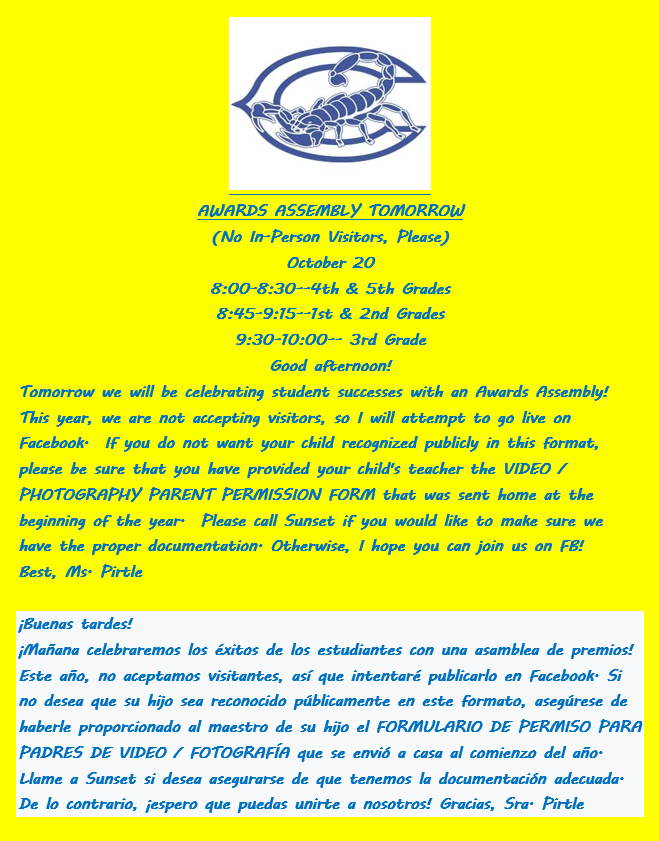 Make it a GREAT day!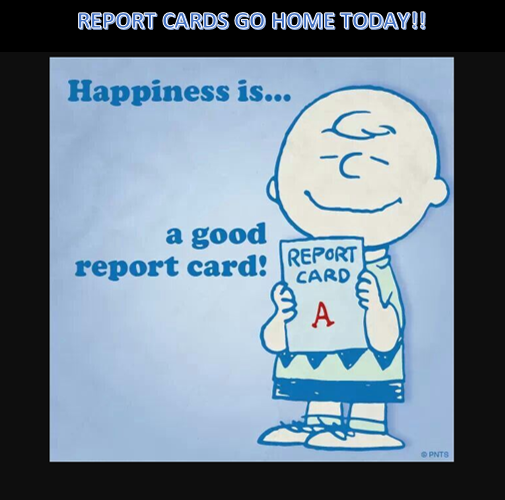 October Newsletter going home TODAY!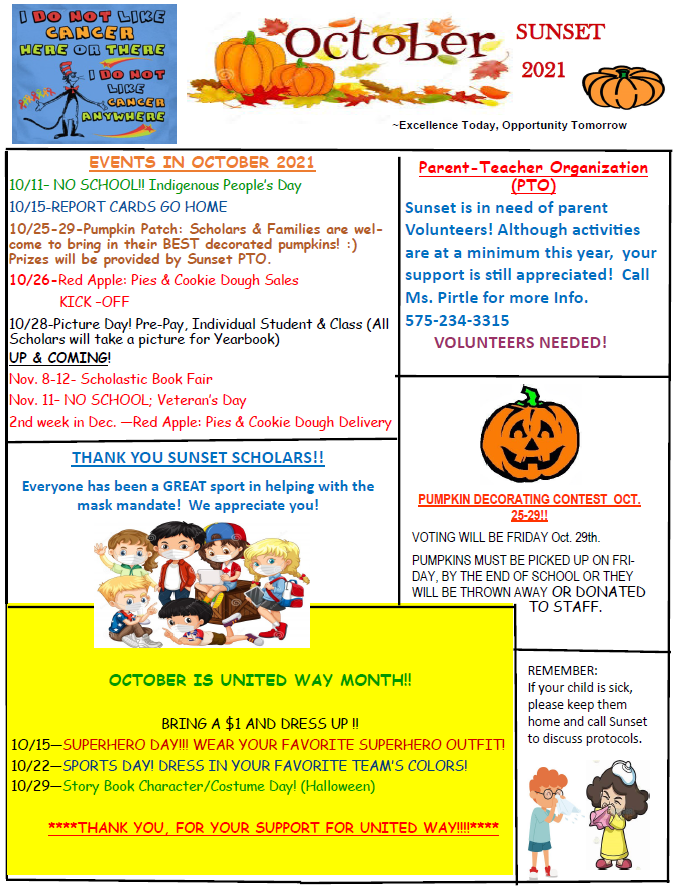 October Lunch Menu 2021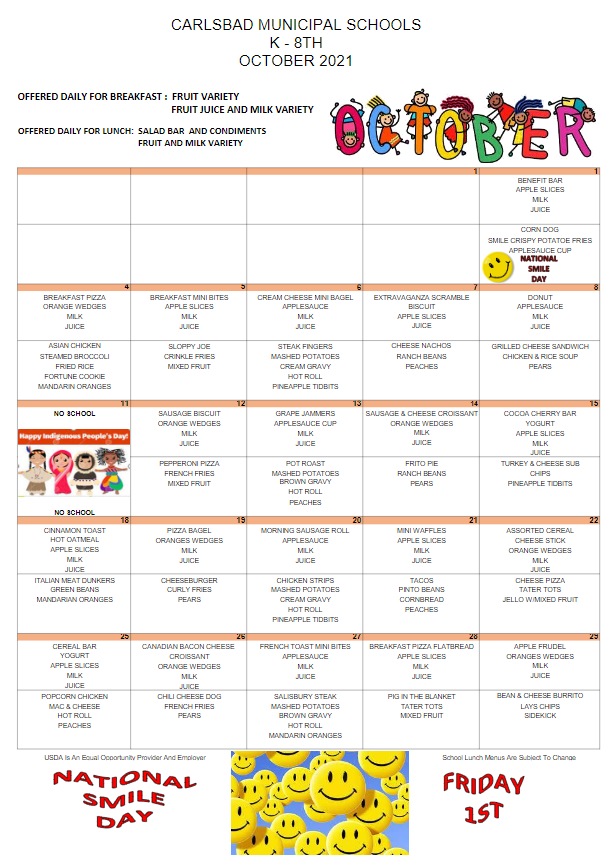 No school, Monday, October 11th ! Indigenous Peoples' Day ¡No hay clases el lunes 11 de octubre! Día de los pueblos indígenas

Sunset, Date to remember: Picture day! Individual & Class Pictures; October 28. Order forms will be sent prior to. Sunset, Fecha para recordar: ¡Día de la foto! Imágenes individuales y de clase; 28 de octubre. Los formularios de pedido se enviarán antes del.

Fine Sunset Families, we are looking for parents to partner with to help with our Parent-Teacher Organization (PTO). PTO is an organization that enables parents, teachers and other staff members to work together for the good of Sunset. The PTO uses fundraisers and events to raise money for classroom materials, field trips, school equipment, books, and much more. Please call Sunset if you're interested in helping! Fine Sunset Families, estamos buscando padres con quienes asociarnos para ayudar con nuestra Organización de Padres y Maestros (PTO). PTO es una organización que permite a los padres, maestros y otros miembros del personal trabajar juntos por el bien de Sunset. El PTO utiliza eventos y eventos de recaudación de fondos para recaudar fondos para materiales para el aula, excursiones, equipo escolar, libros y mucho más. ¡Llame a Sunset si está interesado en ayudar!

Spirit Week at Sunset! Tuesday--Pajama Day Wednesday--Crazy Hat/Hair/Socks Thursday Thursday--Sports/Jersey Day Friday--Cavemen/Cavegirl Spirit Day ¡Semana del espíritu en Sunset! Martes - Día del pijama Miércoles - Sombrero loco / Cabello / Calcetines jueves Jueves - Deporte / Día de la camiseta Viernes - Día del espíritu de los Cavemen /Cavegirls

Good morning! A gentle reminder that TODAY is an early out day. Students will be dismissed at 1:30. We dismiss students at 1:30, EVERY Wednesday. Thank you! ¡Buenos dias! Un suave recordatorio de que HOY es un día de salida temprano. Los estudiantes saldrán a la 1:30. Salimos a los estudiantes a la 1:30, TODOS los miércoles. ¡Gracias!

LAST DAY FOR SUMMER LUNCHES!! See you August 9th & 10th! :)

1st, 2nd, 3rd Grade Reading Academy runs July 6-16, 9:00 a.m.- 12:00 p.m.

Upcoming 1st, 2nd, & 3rd Graders: Your child is invited to join us for a fun and educational elementary reading program! Your child may attend their school to participate in the Summer Reading Academy. Parents must provide transportation. Please allow your child to attend the entire 9 day session at the school. Registration begins this morning at 8:45 a.m. Seating is limited; first come, first served. Próximos estudiantes de grade 1, 2 y 3: ¡Su hijo está invitado a unirse a nosotros para un divertido y educativo programa de lectura de primaria! Su hijo puede asistir a su escuela para participar en la Academia de Lectura de Verano. Los padres deben proporcionar transporte. Por favor permita que su hijo asista a la sesión completa de 9 días en la escuela. La inscripción comienza esta mañana a las 8:45 a.m. El cupo es limitado; primero en llegar, primero en ser servido.

Distribucion de Alimentos