Sunset, Date to remember: Picture day! Individual & Class Pictures; October 28. Order forms will be sent prior to. Sunset, Fecha para recordar: ¡Día de la foto! Imágenes individuales y de clase; 28 de octubre. Los formularios de pedido se enviarán antes del.

Fine Sunset Families, we are looking for parents to partner with to help with our Parent-Teacher Organization (PTO). PTO is an organization that enables parents, teachers and other staff members to work together for the good of Sunset. The PTO uses fundraisers and events to raise money for classroom materials, field trips, school equipment, books, and much more. Please call Sunset if you're interested in helping! Fine Sunset Families, estamos buscando padres con quienes asociarnos para ayudar con nuestra Organización de Padres y Maestros (PTO). PTO es una organización que permite a los padres, maestros y otros miembros del personal trabajar juntos por el bien de Sunset. El PTO utiliza eventos y eventos de recaudación de fondos para recaudar fondos para materiales para el aula, excursiones, equipo escolar, libros y mucho más. ¡Llame a Sunset si está interesado en ayudar!

Spirit Week at Sunset! Tuesday--Pajama Day Wednesday--Crazy Hat/Hair/Socks Thursday Thursday--Sports/Jersey Day Friday--Cavemen/Cavegirl Spirit Day ¡Semana del espíritu en Sunset! Martes - Día del pijama Miércoles - Sombrero loco / Cabello / Calcetines jueves Jueves - Deporte / Día de la camiseta Viernes - Día del espíritu de los Cavemen /Cavegirls

Good morning! A gentle reminder that TODAY is an early out day. Students will be dismissed at 1:30. We dismiss students at 1:30, EVERY Wednesday. Thank you! ¡Buenos dias! Un suave recordatorio de que HOY es un día de salida temprano. Los estudiantes saldrán a la 1:30. Salimos a los estudiantes a la 1:30, TODOS los miércoles. ¡Gracias!

LAST DAY FOR SUMMER LUNCHES!! See you August 9th & 10th! :)

1st, 2nd, 3rd Grade Reading Academy runs July 6-16, 9:00 a.m.- 12:00 p.m.

Upcoming 1st, 2nd, & 3rd Graders: Your child is invited to join us for a fun and educational elementary reading program! Your child may attend their school to participate in the Summer Reading Academy. Parents must provide transportation. Please allow your child to attend the entire 9 day session at the school. Registration begins this morning at 8:45 a.m. Seating is limited; first come, first served. Próximos estudiantes de grade 1, 2 y 3: ¡Su hijo está invitado a unirse a nosotros para un divertido y educativo programa de lectura de primaria! Su hijo puede asistir a su escuela para participar en la Academia de Lectura de Verano. Los padres deben proporcionar transporte. Por favor permita que su hijo asista a la sesión completa de 9 días en la escuela. La inscripción comienza esta mañana a las 8:45 a.m. El cupo es limitado; primero en llegar, primero en ser servido.

Distribucion de Alimentos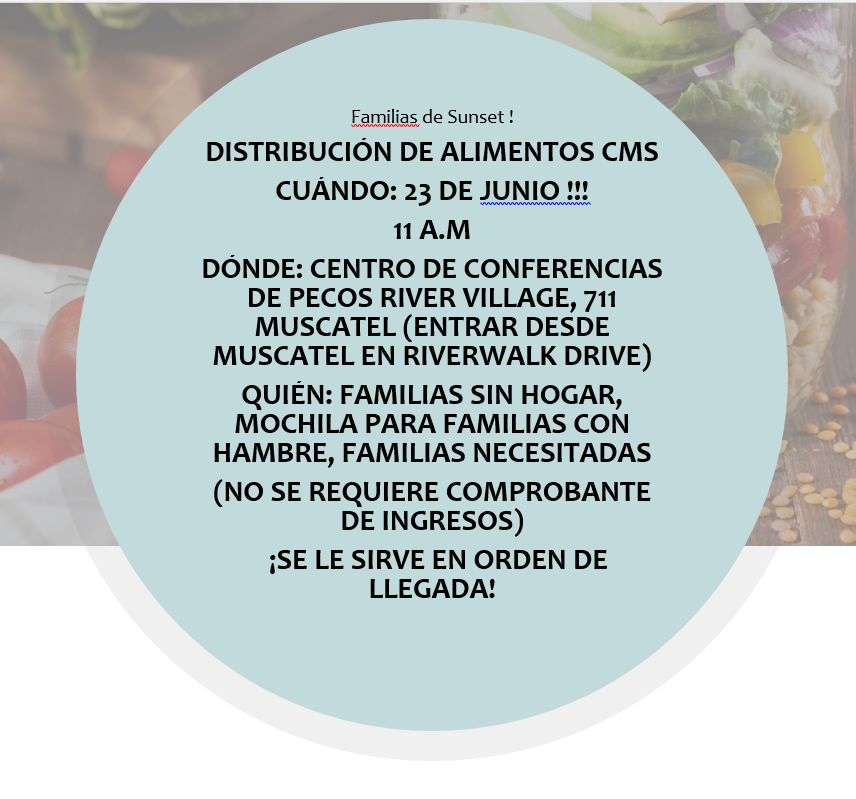 Happening TOMORROW!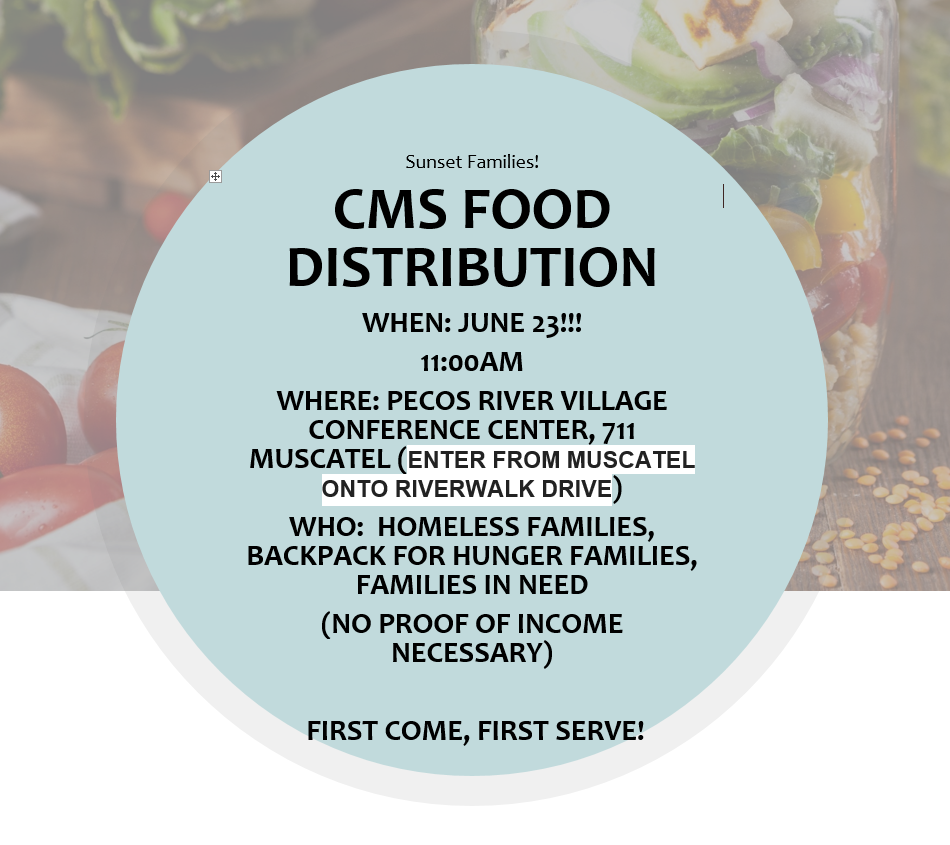 Summer Lunches Start TODAY!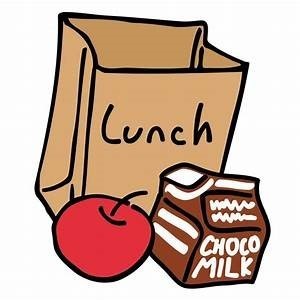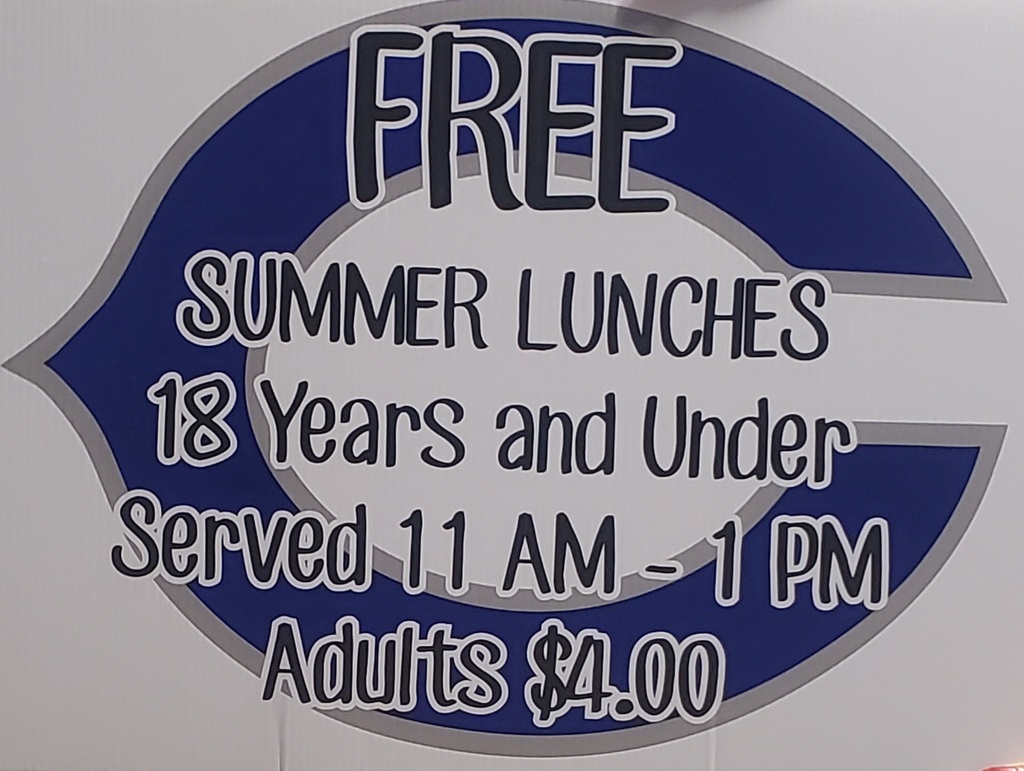 Early Release TOMORROW & WED, June 8 & 9. 12:00 pm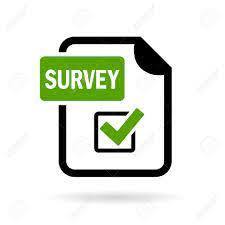 TEACHER REQUEST FORM FOR 2021-2022, NOW AVAILABLE! DUE MAY 21, 2021 @ 3 PM TO: Ms. Anna or Ms. Aimee IN ORDER TO LIMIT VISITORS AT THIS TIME, PLEASE CALL SUNSET TO REQUEST THIS FORM IF YOU ARE UNABLE TO PRINT IT FROM HOME. WE WILL PLACE IT IN YOUR CHILD'S BACKPACK. PLEASE DO NOT COME TO THE BUILDING TO REQUEST THIS FORM. THANK YOU!!

Let's help our SENIORS celebrate! Donations will go to Class Act 2021!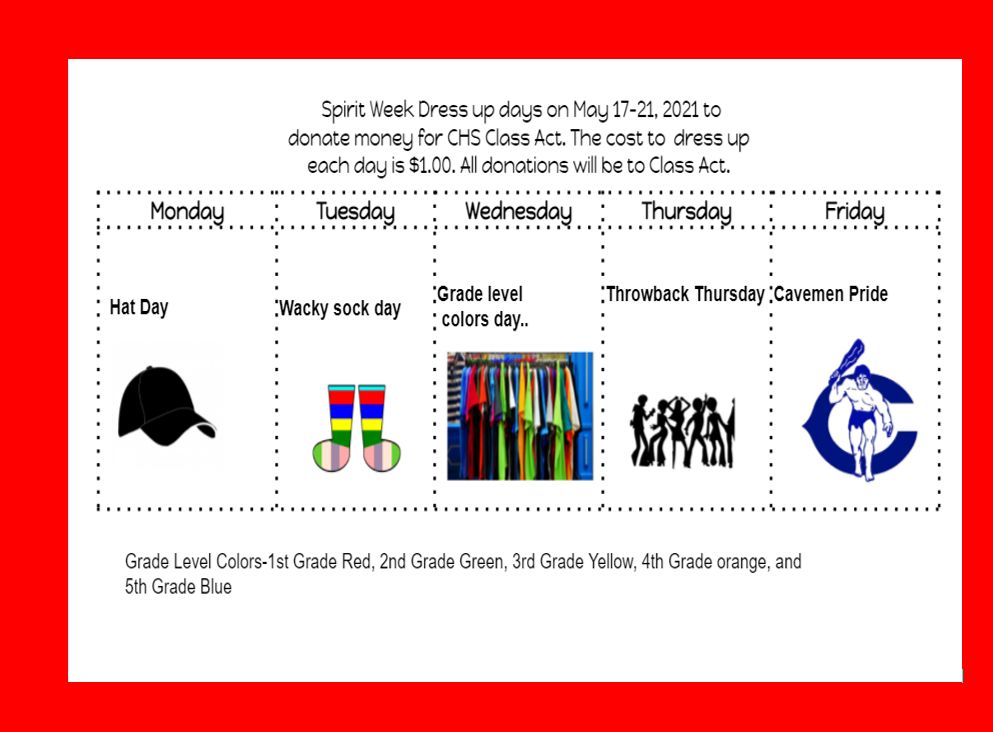 May Lunch Menu

HAPPENING NEXT WEEK!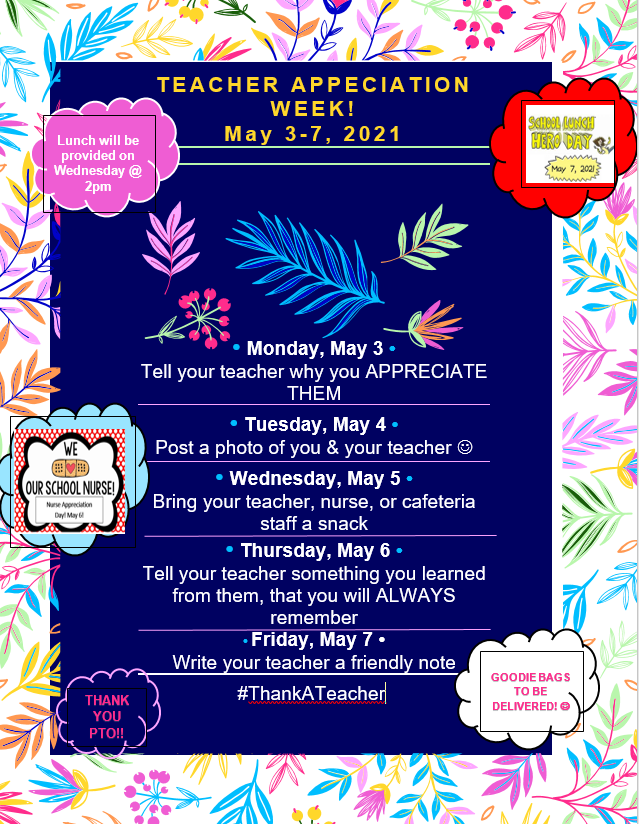 Food Distribution, TODAY @ 11:00 pick-up Pecos River Village Conference Center, 711 Muscatel Serving families in need. First come, first serve! Distribución de alimentos, recogida HOY a las 11:00 A. M. Centro de conferencias Pecos River Village, 711 Moscatel Sirviendo a familias necesitadas. ¡Se le sirve en orden de llegada!

This is an important message from Sunset Elementary School. We have been notified of a COVID positive case at our school. Contact Tracing has taken place and all close contacts have been notified. All students affected are in quarantine per CDC and NMPED guidelines. We are asking the school community to continue to closely monitor the health of you and your family. Remember to stay home if you show COVID related symptoms. Este es un mensaje importante de la Escuela Primaria Sunset. Hemos sido notificados de un caso positivo de COVID en nuestra escuela. Se ha realizado el seguimiento de contactos y se ha notificado a todos los contactos cercanos. Todos los estudiantes afectados están en cuarentena según las pautas de los CDC y NMPED. Le pedimos a la comunidad escolar que continúe monitoreando de cerca su salud y la de su familia. Recuerde quedarse en casa si presenta síntomas relacionados con COVID.