SUNSET COLOR RUN/FIELD DAY! Friday, May 5, 2023 • Third, Fourth, and Fifth graders will be participating from 8:30-10:45. • First and Second graders will participate from 12:30-2:30. • Parent volunteers are welcome.

Thank you Carlsbad for supporting and passing our bond election. We can't wait to share our new facilities with you!

February Lunch Menu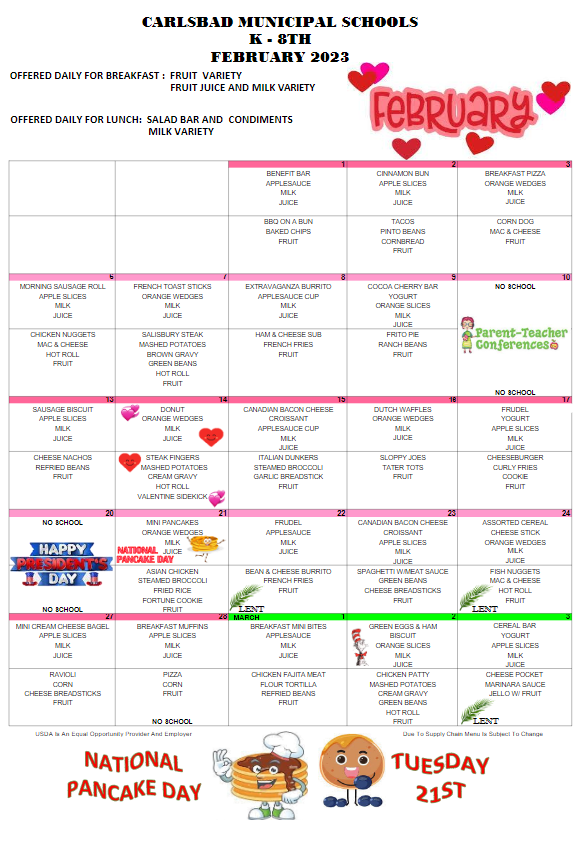 February Newsletter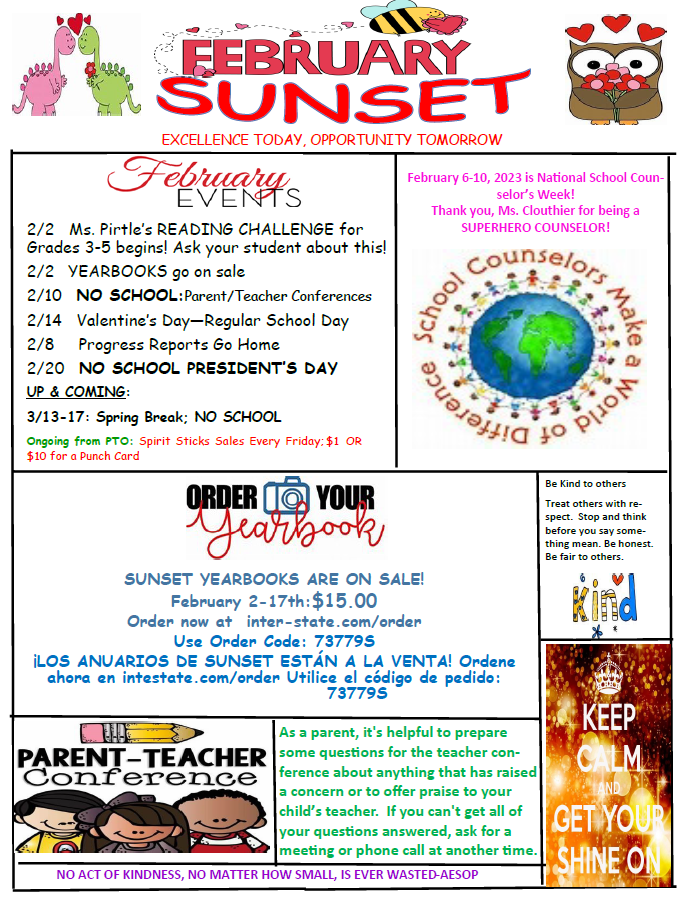 January Lunch Menu 2023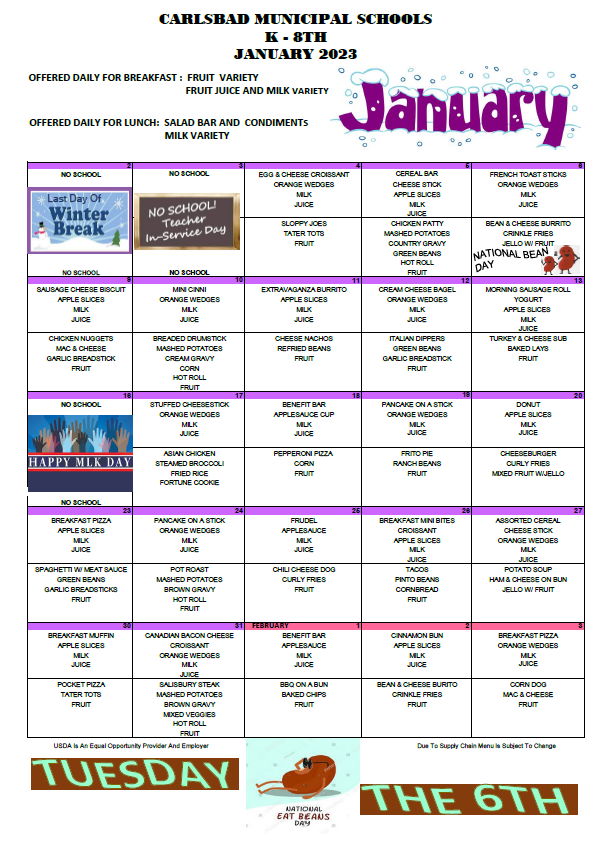 Sunset's January Newsletter! Going home TODAY!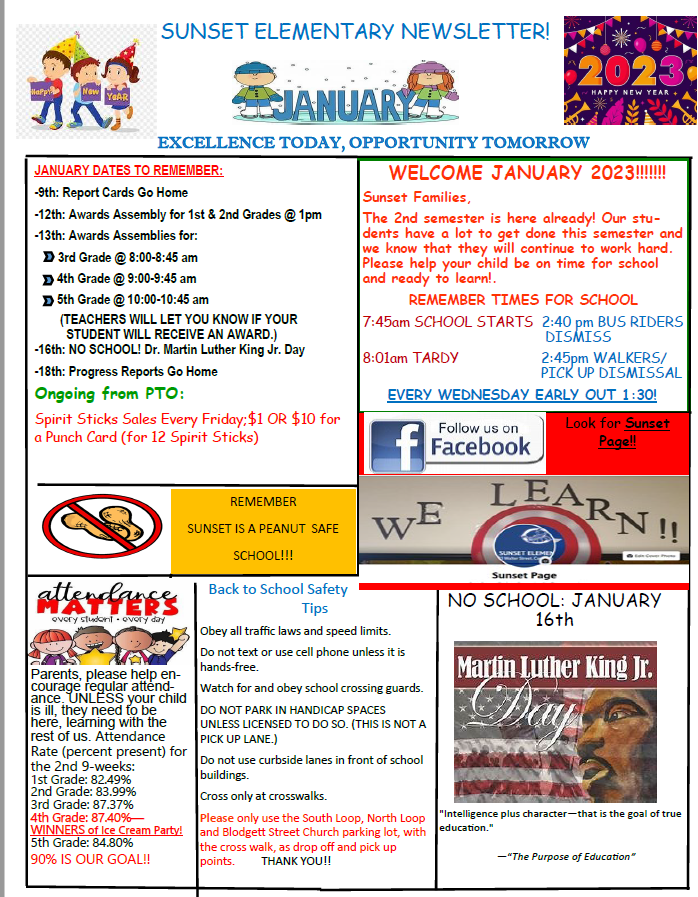 American Heritage Week activities!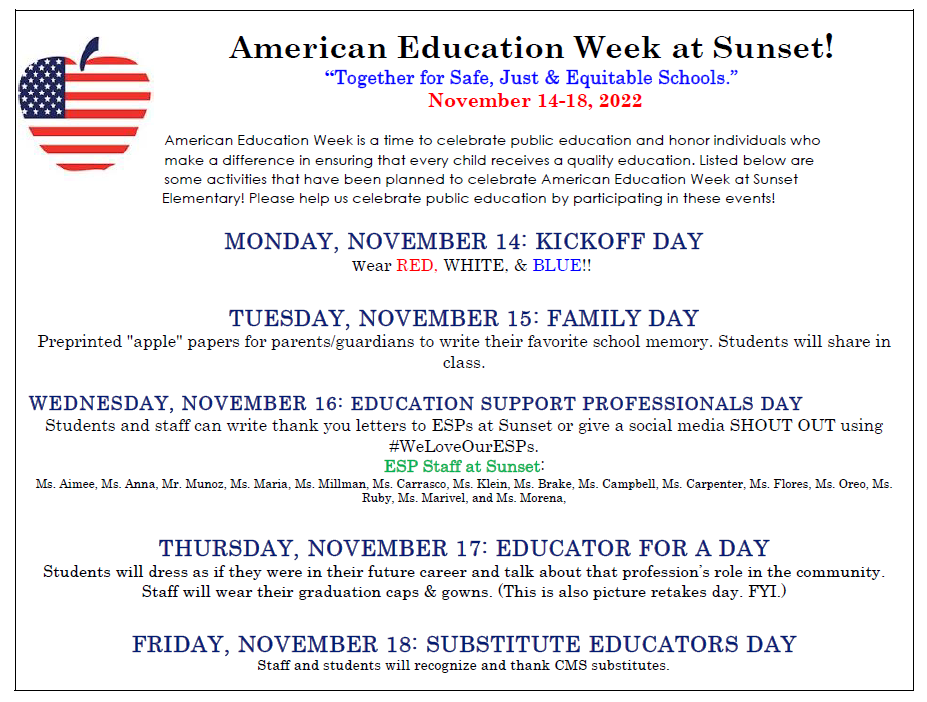 November Menu

November Newsletter! :)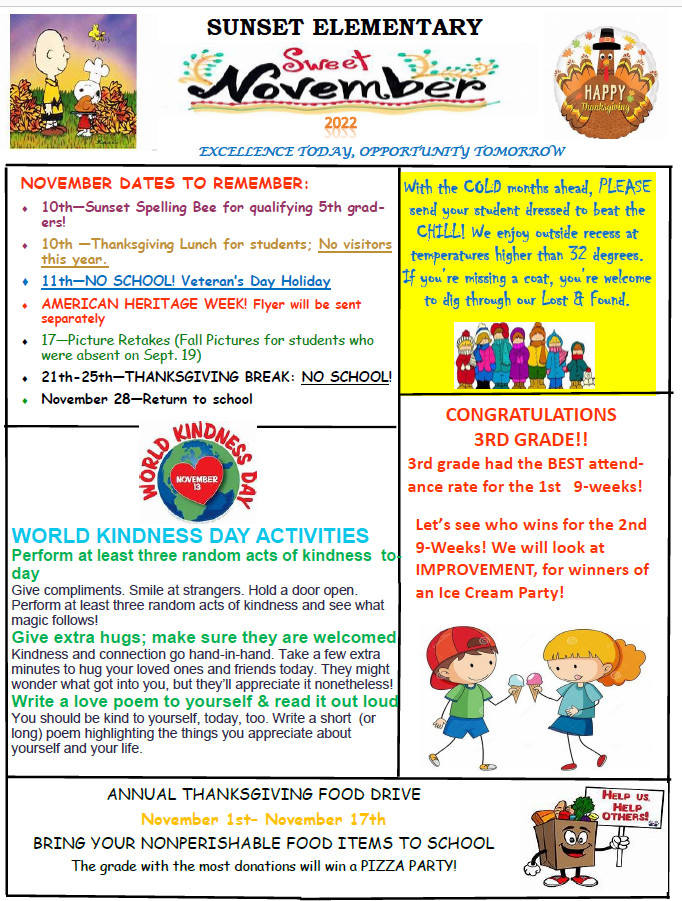 Good afternoon! After a two year hiatus, I'm HAPPY to announce that WE'RE BACK!! Please join us for the fun!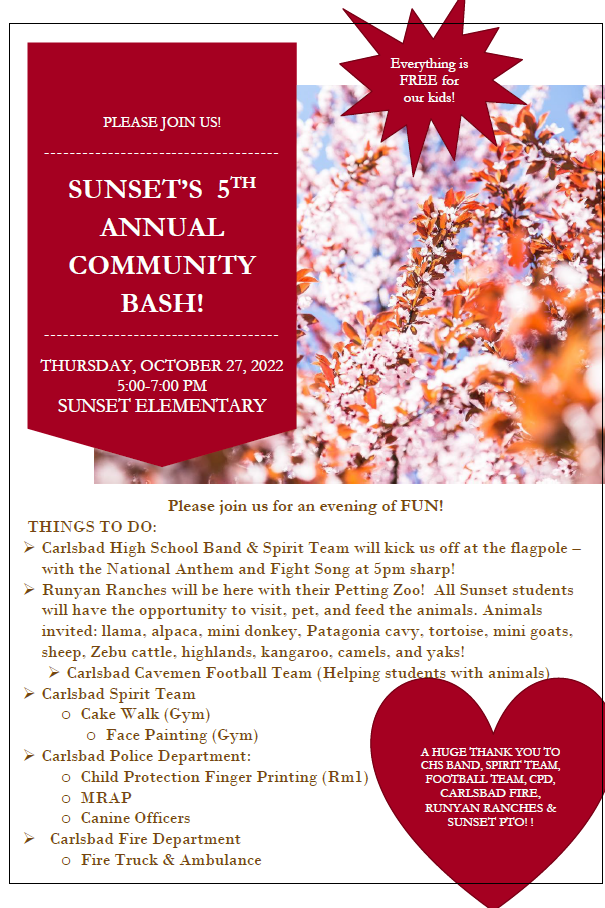 WE'VE GOT A COMPETITION GOING ON AT SUNSET!! The grade level with the BEST attendance rate for the 1st 9-weeks will win an ICE CREAM PARTY! 🍨😋As of now: 1st Grade: 91.16% 2nd Grade: 91.76% 3rd Grade: 92.16% 4th Grade: 90.59% 5th Grade: 88.96% TOTAL: 90.84% We will have new WINNERS every 9-weeks based on IMPROVEMENT!


Today is the day for our food distribution. September 28 @ 11:00 pick-up. Pecos River Village Conference Center, 711 Muscatel Hoy es el día de nuestra distribución de alimentos. 28 de septiembre @ 11:00 recogida. Centro de conferencias Pecos River Village, 711 Muscatel


Does your child need online homework help? Tutors are available through Brainfuse every day from 2:00 PM - 11:00 PM. Help is available in Spanish too! The Brainfuse link:
https://www.brainfuse.com/highed/helpNow.asp?a_id=BACE164E&ss=&r=
¿Su hijo necesita ayuda con la tarea en línea? Los tutores están disponibles a través de Brainfuse todos los días de 2:00 p. m. a 11:00 p. m. ¡La ayuda también está disponible en español! El enlace de Brainfuse:

Now that the COVID challenge is nearing its conclusion we are in the process of recalling all Hot Spots that we handed out to Students, Staff, and Teachers. All students in grades K – 5 will no longer need the hotspots as their devices will be staying in the classroom. Students in grades 6 – 12, teachers, and staff who do not have WIFI at home are encouraged to fill out the following form, which will determine the necessity of continued use of the Hot Spot. Please note that as of Sept 12, all of those that have not filled out the form and received approval for continued use will have an interruption of service. If you no longer need your WIFI hotspot, please return the device to the front office of your school or your child's school.

Hello! FYI: Tomorrow, Wednesday, Aug 24 is the Food Drive! Pick up begins at 11:00 am. Pecos River Village Conference Center, 711 Muscatel ¡Hola! FYI: ¡Mañana, miércoles, 24 de agosto es la colecta de alimentos! La recogida comienza a las 11:00 am. Centro de conferencias Pecos River Village, 711 Muscatel


Good afternoon! If interested, you may pay for school lunches online at:
https://www.k12paymentcenter.com/
If your student is paying with cash, they will not receive change. Change will be placed in their lunch account. Please call Ms. Pirtle if you have any questions. Thank you! ¡Buenas tardes! Si está interesado, puede pagar los almuerzos escolares en línea en:
https://www.k12paymentcenter.com/
Si su estudiante paga en efectivo, no recibirá cambio. El cambio se colocará en su cuenta de almuerzo. Por favor llame a la Sra. Pirtle si tiene alguna pregunta. ¡Gracias!


Buenas tardes lindas familias de Sunset! Con el nuevo año acercándose rápidamente, solo quería informarles que los almuerzos de los estudiantes costarán $ 2.10 este año. Le recomendamos que solicite almuerzo gratis en: carlsbad.strataapps.com ¡Esperamos un maravilloso año nuevo! ¡Gracias!

Good afternoon fine Sunset families! With the new year coming up quickly, I just wanted to let you know that student lunches will cost $2.10 this year. You are encouraged to apply for free lunch at: carlsbad.strataapps.com We look forward to a wonderful new year! Thank you!

SUMMER LUNCHES! 😋 (Starting at Sunset, June 7; ALL other locations will serve TODAY, JUNE 6.) Things to know: * No to go plates * 18 & UNDER eat for free * Adult lunches cost $4 ALMUERZOS DE VERANO! 😋 (A partir de Sunset, 7 de junio; TODAS las demás ubicaciones prestarán servicio HOY, 6 DE JUNIO). Cosas que saber: * No para llevar platos * 18 y MENORES comen gratis * Los almuerzos para adultos cuestan $ 4